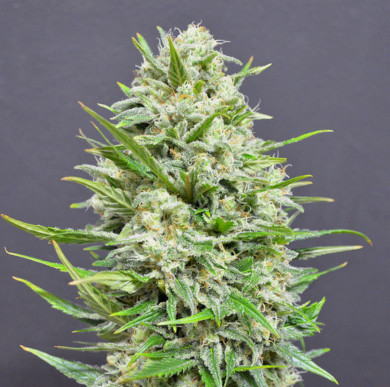 Genetics: Jack Herer x Haze x Ruderalis
Phenotype: 20% Sativa / 70% Indica / 10% Ruderalis
Flowering: 45 – 55 days
Production: indoors – 220-400 gr / m2, outdoors: 80-150 gr / plant
Height: 70-100 cm
THC: 19-21%
Amsterdam Herer Auto is a tall and noble plant with small elegant leaves – narrow at the base, expanding to the shape of a drop at the end, unlike broad indica leaves – and a thin winding stem, ideal for indoor growing, especially using SOG (Sea of Green) method. The high ratio of buds to leaves makes it a productive variety, therefore, extremely attractive to commercial growers. The strain is quite popular not only in many of Amsterdam's coffee shops, but also in many dispensaries, where patients often order it to deal with chronic pain. Amsterdam Herer Auto has a powerful soothing, almost hypnotic effect that can ease the pain in the affected body. The high content of cannabidiol complements to medicinal properties of this plant. Extensive flowering brings outstanding harvest of thick, resinous and tasty buds.