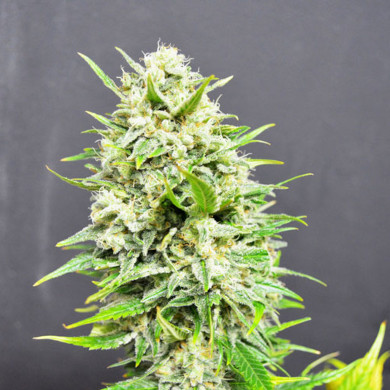 Genetics: Skunk x Big Bud x Ruderalis
Phenotype: 20% Sativa / 70% Indica / 10% Ruderalis
Flowering: 45 – 55 days
Production: indoors – 220-500 gr / m2, outdoors: 80-150 gr / plant
Height: 80-100 cm
THC: 18-20%
Big Skunk Auto – is a medium in height autoflowering plant with dense compact buds, very productive and simple to grow, especially outdoors. The powerful influence of wild Ruderalis genes produces not only the effect of autoflowering, but allows the plant to survive even in the harshest conditions, almost in no need of mineral fertilizers when grown outside. Growers should, however, give the plants plenty of space due to the powerful and extensive root system, typical of this variety. Indica and Ruderalis genetics make it very similar to the psychoactive varieties of the legendary Chui valley, only much more effective, efficient and compact. The effect can be described as a bright solid high followed by a powerful relaxing stone. Classic weed to relax your body and mind after a long hard day.