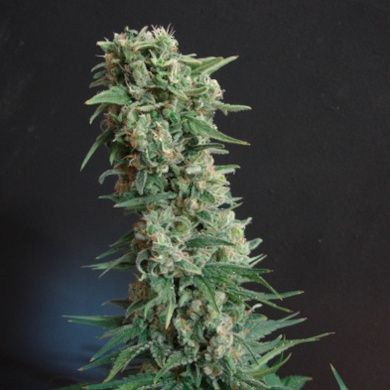 Genotype: Colombian, Mexican, Thailand Sativa х Afghan Indica
Phenotype: 60% Sativa / 40% Indica
Flowering: 50 – 80 days
Production: indoors – 400 gr / m2, outdoors: 500-600 gr / plant
Height: 100-200 cm
THC: 24%
A very popular variety, especially in North and Latin America. Its genetics is a kind of bond between the West and the East: on one hand it originates from the rollicking Mexican and Colombian Sativa species, while on the other – from authentic Thai and Afghani Indicas. This incredible union is as complex as its effects on the smoker. It is slow and gentle at the beginning, which is then rapidly and overpoweringly transforms into completely uncontrollable and bright, as a trail from the tracing bullet, with a slight dose of euphoria at the very end. AK-47 – is guaranteed quality and stable performance. It acts well in the cold, in the heat, under the wind and in the rain, does not require a lot of thorough care and special knowledge from the grower. Following the basic rules of handling ensures harvest up to 600 g/m2. Buds are small, compact, densely covered with trichomes. AK-47 has a distinctive psychedelic Sativa effect with pine and earthy flavor.