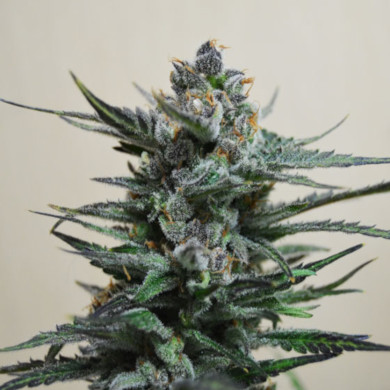 Genetics: Blueberry x Ruderalis
Phenotype: 10% Sativa / 80% Indica / 10% Ruderalis
Flowering: 45 – 55 days
Production: indoors – 220-500 gr / m2, outdoors: 70-120 gr / plant
Height: 70-100 cm
THC: 19-21%
Legendary "Blue Strain" with a distinctive blue tint of leaves and powerful Indica effects can be now grown at a shortest time possible. By crossing it with carefully selected varieties of Cannabis Ruderalis, we managed to achieve a stable autoflowering at the third generation of hybridization. Such traits as rapid growth and the development of green mass on the branches and stems are easily noticeable during the vegetative stage. We also managed to retain Blueberry's classic flavor and aroma – berries, slightly spiced with pine "hashish" aftertaste. Performs well outdoors in the northern latitudes, as it matures by the middle of summer – even if it is short and rainy.