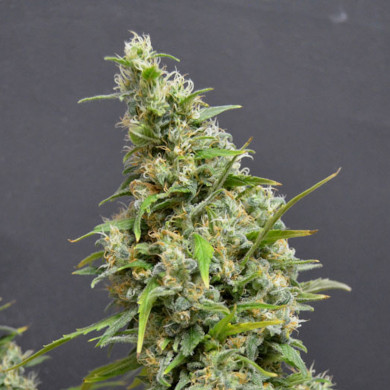 Genetics: Ruderalis x Northern Lights
Phenotype: 15% Sativa / 75% Indica / 10% Ruderalis
Flowering: 45 – 55 days
Production: indoors – 250-500 gr / m2, outdoors: 80-150 gr / plant
Height: 80-170 cm
THC: 19-21%
Northern Lights is a variety that shows its best indoors. In fact, it has been created for this exact purpose many years ago, and almost all modern indoor strains for grow-rooms and grow-boxes contain its genetics, or resemble it one way or another it. Plants can easily stretch up to two meters high with a small amount of branches and leaves, but with significantly large number of heavy resinous buds. Thin and flexible stem is well suited for SOG cultivation method and different types of training and bending. Flowering starts off very quickly, but lasts for nine weeks until all the buds reach the necessary standard. Flavors and aroma are quiet original, almost equally containing citrus-sour, sweet-berry and spicy notes. Northern Lights Auto is impossible to underestimate, as well as to confuse with other strains.