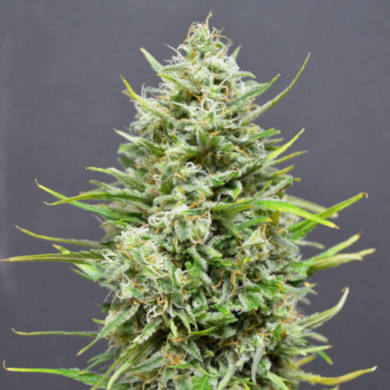 Genetics: White Widow x AK47 x Ruderalis
Phenotype: 10% Sativa / 80% Indica / 10% Ruderalis
Flowering: 45 – 55 days
Production: indoors – 220-500 gr / m2, outdoors: 70-120 gr / plant
Height: 70-100 cm
THC: 20-21%
This strain is an autoflowering version of a hybrid Snow Star – the product of crossing White Widow and AK-47. Such explosive mixture was not only able to give a highly stable offspring, but also to perfectly show all its parents' characteristics. The result is a Snow Star Auto – a very productive and powerful autoflower, which inherited the mother's whiteness – numerous crystals covering the buds with intoxicating THC and knockdown effects of the Afghan-Brazilian father. Plants indeed resemble white stars – under the light of HPS 600W lamp massive elongated colas, surrounded by radiating rays of the long sharp leaves, and a halo of white trichomes, will surely wiggle on a thin hard stalk. Closer to the harvest time they will glitter like a cotton candy on a stick.