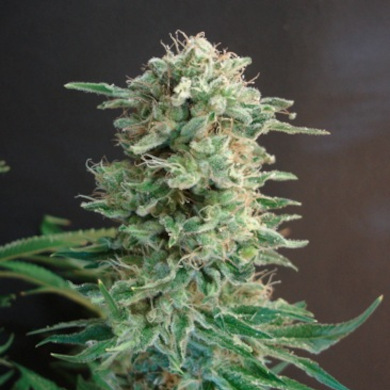 Genotype: Big Bud x Afghani
Phenotype: 50% Sativa / 50% Indica
Flowering: 63 – 70 days
Production: indoors – 500 gr / m2, outdoors: 750-1500 gr / plant
Height: 100-300 cm
THC: 23%
Created in the mid-nineties, Big Dutch Bud strain was repeatedly improved and reached perfection closer to the early 2000s. Big Dutch Bud – product of a long and painstaking selection of the best South African varieties. It resulted in a very transcendental, mystical plant with absolutely incomparable cerebral high, that arouses appetite for music, art and philosophy. Ideal for a rastaman people, drummers, artists and poets. Buds of this strain are quite large, thick, and are composed of many small sharp flowers, resembling fox tails. As with most sativa varieties, Big Dutch Bud flowers for a longer period of time, so when grown under artificial light, the bloom cycle can be speed up by forcing the plants to the 12/12 lighting mode earlier. Plants can stretch easily and are very suitable for LST and ScrOG methods of cultivation. Bountiful harvest in the open air can be collected in mid-October, after 10 weeks from the start of flowering. Buds have a rare tangerine flavor and a powerful stimulating effect.