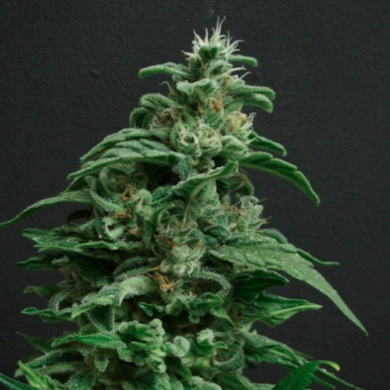 Genotype: White Widow x Black Domina
Phenotype: 25% Sativa / 75% Indica
Flowering: 63 – 90 days
Production: indoors – 300 gr / m2, outdoors: 400-600 gr / plant
Height: 100-200 cm
THC: 24%
This variety is almost no different from the other known type of cannabis with a similar name – White Widow, except, perhaps, rich dark purple tone, as deep as the night sky in October, the month you can harvest Black Widow killer crop. The genetic parents of the Black Widow repeat those of White Widow, but not identical to them, which apparently led to present features of the plant pigmentation. Black Widow was the result of attempts to revive the original White Widow, and since then, namely – with Cannabis Cup 1994 – remained the prized strain of most cannabis festivals up to the end of the 90's. Black Widow tolerates cold weather better than its heat-loving sister. Black Widow is also very easy to grow, and is recommended for novice growers.