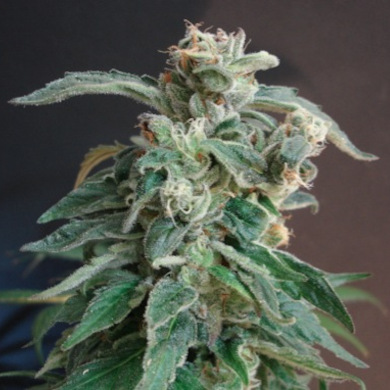 Genotype: California Sour x OG Kush
Phenotype: 15% Sativa / 85% Indica
Flowering: 60 – 80 days
Production: indoors – 250-400 gr / m2, outdoors: 300-350 gr / plant
Height: 70-100 cm
THC: 22%
CBD: 2%
Blue Afghan Kush – is a hybrid between clones of California Sour and Afghan Kush. Such crossing was carried out with an attempt to enlarge and to condense the buds of California Sour, and our efforts were not in vain. It's incredibly fast growing plant that completes the flowering period in 7-8 weeks. The height of the plants is about 80 centimeters, which makes them almost invisible on the open areas. Young sprouts may seem stunted, but soon they will gain weight and height, and begin to form large, tight flowers. Herbal smell, somewhat spicy, reminiscent of black hashish. Taste – a mix of grape-wine and mint, very delicate and unique. The effect is prolonged, upbeat and euphoric. Strain is ideal for daylight meditation, treatment of stress, fatigue, pain, depression and reduced appetite.