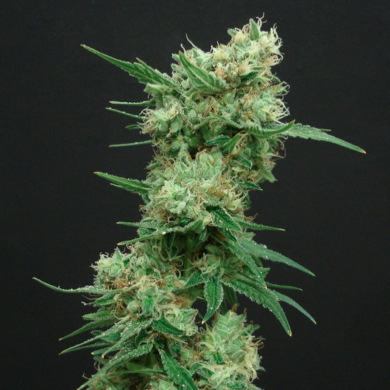 Genotype: Brazilian х Hindu Indica
Phenotype: 35% Sativa / 65% Indica
Flowering: 63 – 90 days
Production: indoors – 600-700 gr / m2, outdoors: 800-900 gr / plant
Height: 150-200 cm
THC: 23%
The original White Widow has been created on the basis of pure Sativa from Brazil and selected Indica-hybrid from south India. The results were amazing: achieved knockdown effect was the most powerful in its time, eclipsing even the legendary strain Acapulco Gold. Typically, the Widow grows up to 2 meters in the open air, and up to 1.5 indoors. Well suited to all European climates, without exception, as the temperature even close to 10 ° C is well tolerated. Flowering cycle ends after 9 weeks, with outdoor harvest after warm summer with up to 600 g per plant; indoors – up to 800 g/m2. The effect of smoking White Widow is very psychedelic in nature, but at the same time it is very meditative and calming. The majority of White Widow smokers experience a deep dive into themselves and their thoughts. Widow relaxes body and mind equally strong, so in countries where the use of marijuana in medicine has become a daily practice, it is often prescribed to patients as a natural painkiller. White Widow has a distinct pine smell, almost as pure Nepali hash with a hint of citrus aftertaste.